---
Plese,before download game - stop your antivirus program becouse some of them alert for false positive!
Add Game Folder to your Antivirus
: If use Windows Defender :
Click here
If use Avast Antivirus :
Click here
---
---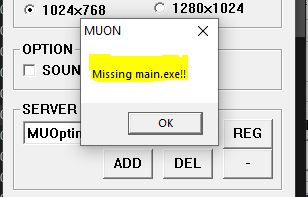 If get this error - your antivirus delete game file -
main.exe
!
---
For minimize game please press F12/F11 before type account name and password!!

FOR Start 3D CAMERA CHANGE THIS IN
SETTINGS.INI
FILE >>
[3DCameraMode]Enabled =0
to
[3DCameraMode]Enabled =1
---
If you have problem with words in game click here !
For questions or problems >>
Contact us
Email: [email protected]
Facebook: MUOptinet